DAVE TAYLOR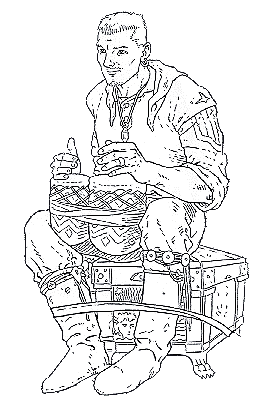 Dave TAYLOR broke into the US comic industry in 1994 after serving an "apprenticeship" with Marvel UK on titles such as Zorro, Warheads, Motormouth and Genedogs.

Dave is probably best known for his work on Marvel's Force Works and DC's Batman/ Riddler - The Riddle Factory (1995), written by Matt Wagner.

Dave TAYLOR also contributed to MOEBIUS COMICS, and was named Up and Coming Creator by Wizard Magazine in February 1996.

Dave went on to become the regular penciller on The Shadow of the Bat, written by Alan Grant, and also worked on a 10-issue World's Finest maxi-series for DC.

Dave TAYLOR's TONGUE*LASH (written by Randy & Jean-Marc LOFFICIER) is a film noir tale of murder and greed taking place in a fantastic universe where the Mayans still rule. TONGUE and LASH are two detectives asked to investigate the mistress of a powerful Lord. When she is later assassinated, they begin looking for her murderer and uncover a deadly conspiracy.

The first series of TONGUE*LASH was published to great acclaim by, and is still available from, Dark Horse Comics. A second TONGUE*LASH series was released by Dark Horse in February 1999.



TONGUE*LASH



VISIT THE OFFICIAL TONGUE*LASH SITE!
VIEW A GALLERY OF DAVE TAYLOR'S ART!
PURCHASE ORIGINAL ART FROM "TONGUE* LASH"!
VIEW A TONGUE*LASH 3D ANIMATION QUICKTIME CLIP!
AND MORE!