Jiggery Po, or simply 'The Po', as it's called by some of its inhabitants, is the name of the hustling, bustling coastal town which is central to the story. The town is located in the Land Of Horpus, in Cyrimbal's Southern hemisphere. The people indigenous to Horpus (the Horpusians) are odd-looking folks with deep red chicken wattle skin and vulture like features.

Pictured above is Jamhut Doderpol. He's one of the principal characters. He's the chap responsible for writing the dreadful poem Beware The Jaws Of The Jumjang Fish, which Narpy Noo fits into. Doderpol penned the piece after he'd had a finger bitten off by a Jumjang fish which he'd assumed to be dead since it was laid out on a bed of ice, as the eye catching centre piece in a fish merchant's display. He later referred to this incident as the Fish/Finger Fiasco.

The story concerns a tiny moon called Hethabyr, which has gone missing and which must be retrieved, since it's the only thing that can save Cyrimbal from being torn apart by the intense gravitational pull of a massive rogue planet called Mongmoozle. This is the cosmic villain of the piece.

The people of Cyrimbal have long believed that their Sun, Bright Banipal, is circled by eleven planets, all in nicely arranged obedient orbits. What they don't know, but they're about to find out, is that there is a twelfth, in a vast elliptical orbit (more akin to a comet's), which comes round into dangerously close proximity to Cyrimbal every ten thousand years.

Actually, if we're going to split hairs it's every nine thousand, nine hundred and ninety nine years. And if you want to be really precise about it, it comes closest on the ninth hour of the ninth day of the ninth month...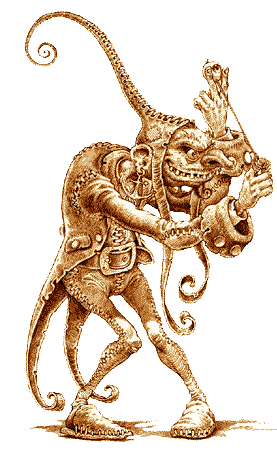 TOBERBANTY PECKERPOD
OF JIGGERY POKERY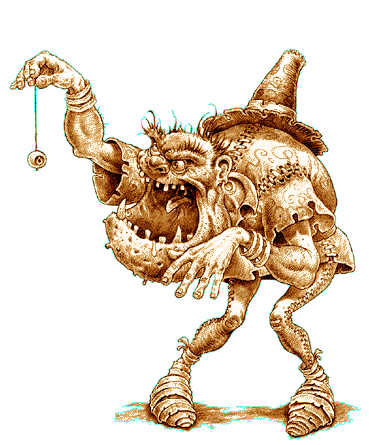 THRAMBLISH BEANBOI
OF JIGGERY POKERY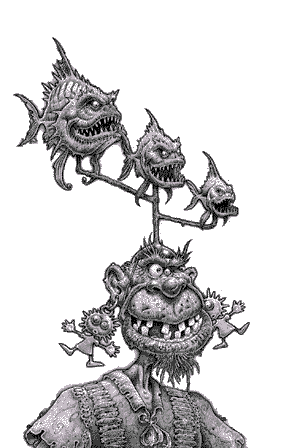 NARPY NOO
OF JIGGERY POKERY