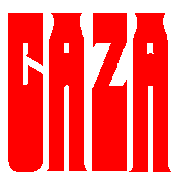 CAZA is a talented French comic-book artist and illustrator. His graphic novels include:
Kris Kool (1970)
Fume, C'est du Caza (1975)
Caza 30X30 (1980)
Arkhé (1982)
Le Caillou Rouge (1985)
Mémoire des Écumes (1985)
Lailah (1988)
Chimères (1988)
De Métal et de Chair (1994)
L'Oeil du Dragon (1996)

CAZA's series include:
SCENES DE LA VIE DE BANLIEUE [Scenes Of Suburban Life] - Fantastic, surreal stories on the theme of suburban life in rent-controlled, low-cost apartment buildings. The hero is a self-portrait of Caza.
1. Scènes de la Vie de Banlieue (1977)
2. Accroche-toi au Balai, J'enlève le Plafond (1978)
3. L'Hachèlème que j'aime (1979)
LE MONDE D'ARKADI - The son of a barbarian and a sorceress holds the key to survival in a future when Earth no longer spins on its axis, and light and darkness are locked in endless struggle.
1. Les Yeux d'Or-Fé (1989)
2. Le Grand Extérieur (1990)
3. Arkadi (1991)
4. La Corne Rouge (1992)
5. Les Voyageurs de la Mer Morte (1995)
6. Noone (1996)
L'ÂGE D'OMBRE [The Age Of Darkness] - Surrealistic, Lovecraftian-inspired stories.
1. Les Habitants du Crépuscule (1982)
2. Les Remparts de la Nuit (1984)
Both volumes reprinted in an omnibus edition in 1998.
AMIANTE - Red-haired, one-eyed Amiante, Fafnir the Thief and the wizard Mordecai fight demons and evil wizards in a story written by CAZA and illustrated by Patrick Lemordan.
1. La Cité Perdue de Kroshmargh (1993)
2. L'île du Géant Triste (1994)
3. Le Labyrinthe de la Lune Pâle (1995)
4. La Clef de la Pierre-Étoile (1997)
CAZA is also one of France's premier science fiction illustrator, having drawn covers for the French editions of Isaac Asimov, Jack Vance, Tim Powers, Roger Zelazny, etc.
CAZA designed René Laloux' animated feature, GANDAHAR (aka LIGHTYEARS) and Les Enfants de la Pluie (Skan, or The Children of the Rain), an adaptation of best-selling French science fiction author Serge Brussolo's novel, A l'Image du Dragon (In the Dragon's Image) (2003).