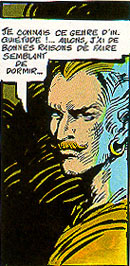 JEAN-CLAUDE FOREST (1930-1998) was born in Perreux, a Paris suburb, and went to graduate from the Paris School of Design. His very first comic strip, Flèche Noire (Black Arrow) was drawn while in art school.

Forest began working as an illustrator in the early 1950s, contributing startlingly original covers to numerous French newspapers and magazines, including France-Soir, Les Nouvelles Littéraires and Fiction. He also drew numerous issues of the popular Charlot comic book series, loosely based on Charlie Chaplin's Little Tramp character.

During that period, he also became the premier artist of the then-leading French science-fiction paperback series, Le Rayon Fantastique (Hachette), illustrating novels by A. E. Van Vogt, Jack Williamson and many others. Together with film director Alain Resnais, Forest was one of the founders of the French Comic-Strip Club in the early 1960s.

Forest became world-famous when he created the character of Barbarella, which was originally published in 1962 in V-Magazine. Barbarella was an immediate runaway best-seller and was soon translated in a dozen countries. Not long after, it was adapted into a major motion picture, starring Jane Fonda, for which Forest acted as design consultant. The rock group DURAN DURAN's name was borrowed from one of Barbarella's cast of characters.

Forest's comics career also encompassed several other colorful series: a younger version of Barbarella, the hilarious Baby Cyanide (which became the subject of a French TV adaptation), as well as more serious works, such as Hypocrite; the Jules Verne-inspired Mysterious Planet; La Jonque Fantôme Vue de l'Orchestre and Enfants, c'est l'Hydragon qui Passe.

Forest also wrote scripts for a number of France's most gifted comic artists: Paul Gillon (the Naufragés du Temps aka Castaways in Time series); Jacques Tardi (Ici Même), Didier Savard (the occult detective series Leonid Beaudragon), as well as a number of scripts for French television and a 1983 juvenile fantasy novel, Lilia entre l'Air et l'Eau (Lilia Between Air and Water).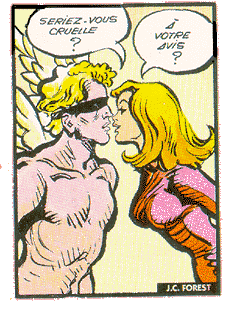 In recognition of his talent, he was awarded the Grand Prize at the 1984 Angouleme Comics Festival and in Sierre (Switzerland) in 1986.

Artist, writer, photographer, editor, discoverer and nurturer of talent, Jean-Claude Forest was truly one of France's most versatile and talented artists. His sense of undiluted fantasy, his whimsical humor and his unbounded imagination were at the service of a clear and disciplined vision. He was called the "Magician of Comics" and was honored by the issuance of a French postage stamp in 1989.

Jean-Claude forest passed away in Paris, France on Tuesday, December 29th, 1998, at age 68.