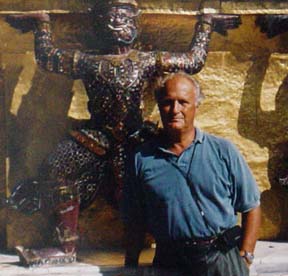 THE ART OF
EMILIO UBERTI

Click on thumbnail to enlarge each image

Emilio Uberti is a distinguished Italian illustrator and film director. His artistic credits includes numerous comic-book stories for a variety of French and Italian publishers such a sBonelli, Del Duca, Dardo and Lug. Among the characters he illustrated are Diabolik, Stormalong, Chikotawa and Digger Drake.

Uberti's directing career includes numerous award-winning documentaries such as Wind of Jordan, which won the first prize at the 1998 New York Film Festival and Treasures of Thailand, which won a gold medal at the 1999 Milan Communicazione Pubblicitaria and a gold medal at the 1997 New York Film Festival.

Uberti has also dircted a number of variety shows for Italian television networks RAI (including Mister Fantasy, for which he won a Best Director nomination at the Italian Emmys), Retequattro (Prontovideo), Canale Cinque (Nonsolomoda) and Tele Monte-Carlo. His directing credits also include numerous videoclips, industrial films and advertising commercials.

TO CONTACT EMILIO UBERTI:





VISIT EMILIO UBERTI'S ITALIAN SITE