MORE ON
BARBARELLA

GALLERY
OF
IMAGES
History:
Jean-Claude Forest created the character of Barbarella for V-Magazine in 1962, at the request of its editor, Georges H. Gallet, who was already familiar with Forest's work as France's premier science fiction cover artist and had commissioned an illustrated version of Catherine L. Moore's classic story Shambleau in 1955.

Barbarella was published in book for by Eric Losfeld's publishing company Le Terrain Vague in 1964, became an immediate runaway bestseller and was soon translated in a dozen countries, including by Grove Press in the United States. Not long after, it was adapted into a 1968 motion picture, produced by Dino de Laurentiis, directed by Roger Vadim, and starring Jane Fonda, for which Forest acted as design consultant.

An animated Barbarella was contemplated by Canadian producer Nelvana during the 1990s, but never took off.

In 1999, Warner Bros. and 20th Century Fox reached an agreement to co-produce a new Barbarella feature film. John August (Go, Charlie's Angels) was hired to write a screenplay. Laura Ziskin (Spider-Man), Drew Barrymore (Charlie's Angels) and Nancy Juvonen (Charlie's Angels) are named as producers on the movie, with Barrymore likely to star. However, nothing came of it.

In 2006, Producers Dino and Martha De Laurentiis reacquired the rights and have hired writers Neal Purvis and Robert Wade (Casino Royale) to script a new feature film.
news release No. 1 - txt
news release No. 1 - pdf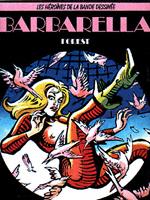 Books:
In the first book, space agent Barbarella has various adventures on the planet Lythion, trying to rescue the scientist Durand Durand from the clutches of the evil Black Queen. In the second volume, Barbarella, now the owner of a space circus, explores a slow-time planet. In the third and fourth volumes, she eventually marries and has a child. Portions of the first graphic novel were adapted into a feature film by Roger Vadim.

1: Barbarella (story & art), serialized in V-Magazine (1962); collected by Le Terrain Vague (1964); translated into English by Grove Press (1964)
2: Les Colères du mange-minutes (story & art), Kesselring (1974); untranslated.
Note: Partially drawn and serialized in 1968-69 but completed only in 1974.
3: Le Semble-lune (story & art), Pierre Horay (1977); translated into English as Barbarella and The Moon Child by Heavy Metal (Feb-July 1978 issues).
4: Le Miroir aux tempêtes (story) (drawn in collaboration with Daniel Billon), L'Echo des Savanes (1981); Éditions du Fromage (1982); untranslated.

There is also a spin-off story, Mystérieuse, Matin, Midi et Soir, in which a much older Barbarella rescues Professor Alizarine and his friends who are stranded on a Mysterious Planet.