About Us
Company information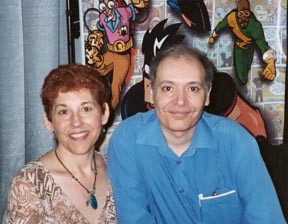 HOLLYWOOD COMICS represents comic-book artists and their properties in Hollywood. It was established in July 2000 by Jean-Marc and Randy LOFFICIER to advise, counsel and direct comic-book creators in matters of contract negotiations and the sale and/or licenses of their intellectual properties in the fields of motion pictures, television, multimedia, publishing and merchandising..
The Lofficiers are themselves writers, editors and translators of screenplays, teleplays, books and comic books, mostly in the genres of science fiction, fantasy, animation and popular literature. They have co-authored a dozen books about movies and television, several novels, as well as numerous comics and translations, including the Moebius graphic novels. They have also contributed scripts to animated series. In 1990, in recognition of their distinguished career, Randy and Jean-Marc were presented by Comicon with the Inkpot Award for Outstanding Achievement in Comic Arts.


Experience
Jean-Marc has an MBA from the ESCP Paris Business School and a Law Degree from the Sorbonne. Randy is a member of the Writers Guild of America, West, and of Mystery Writers of America.
Jean-Marc first worked as a financial analyst for Barclays in Paris (1978) before being hired by Credit Lyonnais the following year to serve as a senior financial analyst in its Los Angeles branch. In 1983, promoted to the title of Assistant Treasurer, he became responsible for all the financial and legal reviews of the Branch's lending to the entertainment and real estate industries in the Los Angeles area.
In 1986, Jean-Marc left Credit Lyonnaus to team up with French artist Moebius to start Starwatcher Graphics, becoming responsible for all business, legal and financial matters of the new company. He supervised productions made or licensed by the company, worked with all major studios, negotiated and drafted all kinds of publishing, and licensing contracts, co-production agreements, and generally supervised all of the company's legal affairs, including the management of several lawsuits.
He started Hollywood Comics in 2000 after Starwatcher was dissolved by Moebius.
Testimonial
I am very sorry to hear that Starwatcher Graphics has been dissolved. It was a great asset having someone of your caliber manage Moebius' work.


George Lucas