Properties
Non-exhaustive list of intellectual properties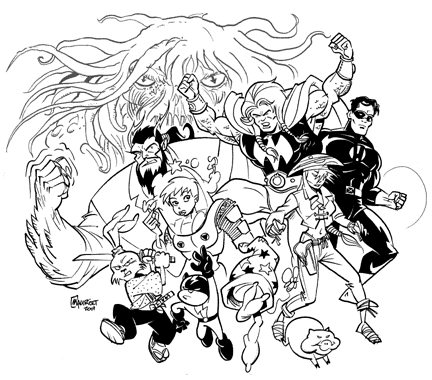 100% (Paul Pope) - Six characters in Manhattan in January 2038. Though the interweaving stories are romantic in nature, they are steeped in science fiction and cyberpunk.
The Alien Spotter's Companion (Douglas Carrel) - The colorful antics of the denizens of a far-off planet.
Anita Bomba (Didier Cromwell & E.ric Gratien) - A bomb-throwing female thief and an alien flee from cyborg police.
Atomic City Tales (Jay Stephens) - Post modern superheroes.
Aurora West (Paul Pope) - A new generation of superheroes.
Baby Cyanide (Jean-Claude Forest) - A young girl and her kid brother wander the space lanes, often in the company of the colorful cast of a Cosmic Circus led by Queen Gypsy-Yoyo.
The Ballad of Dr. Richardson (Paul Pope) - An art teacher undergoes a journey of discovery when he pursues a beautiful student through the New York underground night life.
Barbarella (Jean-Claude Forest) - A female adventuress explores the galaxy.
Battling Boy (Paul Pope) - A new generation of superheroes.
Bug Patrol (Jay Stephens) - Superheroes of the anthill.
Burrito (Carlos Saldaña) - The colorful adventures of a little hispanic donkey.
City (Lofficier) - In a decaying South American capital, two policemen are ordered to drive an armored truck with a mysterious cargo to a deadly destination.
Despair (Lofficier & Marc Agapit) - The victim of a car crash finds himself prisoner in a surreal clinic at the mercy of a mad doctor.
Donito (Didier Conrad) - A South Pacific island boy is entrusted with the ability to live underwater and helps his undersea friends against an evil siren.
El Muerto (Javier Hermandez) - 21-year-old Diego is abducted and sacrificed by the Aztec gods of death and returns to earth with supernatural powers.
Escapo (Paul Pope) - An escape artist makes a deal with Death.
Four-Eyes (Darryl Kluskowski) - As seen in syndication.
The Fury (Stephen R. Bissette) - A high-school student becomes a wisecracking superhero.
G.I.R.L. Patrol (Mike Manley) - Tales of the Galactic, Insertion, Reaction, Legion.
The Gutterspines (Douglas Carrel) - An oddball family of hillbillies guard a portal that is all that stands between us and the bizarro creatures of Weerdlium.
Heavy Liquid (Paul Pope) - Futuristic film noir with a "Repo Man" twist.
Hogoun Temu (Lofficier & Philippe Xavier) - The investigations of an African wise man/witch doctor in the ancient Dogon Enmpire.
Hypocrite (Jean-Claude Forest) - An eager, daffy, stunningly beautiful girl embarks on a career of monster-chaser
Icky Animal (Jay Stephens) - It's ugly, it smells, it's hilarious, what IS it?
Jetcat (Jay Stephens) - As seen on NICKELODEON!
Kook & Yuck (Jay Stephens) - A hyperactive roach vs. hyperreactive rat a la Spy vs Spy or Tom & Jerry.
The Light & Darkness War (Tom Veitch & Cam Kennedy) - In an afterlife dimension, Vietnam Vets join the great ten thousand-year war against the hellish legions of the Outer Darkness .
Monsterman (Mike Manley) - The man with the power of a thousand monsters.
Mysterious Planet (Jean-Claude Forest) - In this science fiction remake of Jules Verne's Mysterious Island, space explorers are stranded on a "Mysterious Planet".
Nexus (Mike Baron & Steve Rude) - Moody tales of a Space Age vigilante executioner.
N-Man (Stephen R. Bissette) - A scientist turns into a hulkish red monster who protects the world from giant lizards, alien invaders and other deadly creatures.
Nightspeeder (Lofficier) - A hyperspatial pilot finds herself trapped in a series of mind-over-reality adventures.
Nosferatu (Lofficier) - In a futuristic setting, vampire hunters pursue an alien from another dimension.
Oddette (Jay Stephens) - The life of a little girl rock star.
Oedipus & Rex (Lofficier & Paul G. Somers) - A boy psychiatrist and his pet turtle.
The One-Trick Rip-Off (Paul Pope) - An inner city gang whose members have strange mind powers plot a major heist.
Quicken Forbidden (Dave Roman & John Green) - What if, when Alice came back from Wonderland, Wonderland came back with her?...
Ragnarok (Lofficier & Stephan Martiniere) - Seven million years in the future, the Long Night has come at last...
Robur (Lofficier & Gil Formosa) - Jules Verne's air pirate fights the invasion of the Selenites.
Secret Saturdays (Jay Stephens) - As seen on CARTOON NETWORK!
The Silent Invasion (Larry Hancock & Michael Cherkas) - In the 1950s, journalist Matt Sinkage investigates UFOs and a communist conspiracy.
Space Ape 8 (Jay Stephens) - Cosmic patrol with space monkeys.
Space Usagi (Stan Sakai) - Space age adventures of a rabbit warrior.
Suburban Nightmares (Larry Hancock & Michael Cherkas) - 1950s surreality in the vein of "The Twilight Zone".
THB (Paul Pope) - A sci-fi story set on Mars in the future, THB features the adventures of HR Watson, a teenage girl, and her super-powered bodyguard.
Tiger & The Eye (Hexagon Comics) - Two private eyes investigate murder & mayhem in an alternate Mayan Earth.
Timmy Cranium (Mike Manley) - The hilarious adventures of backwoods, inbred hillbillies.
Tutenstein (Jay Stephens) - As seen on DISCOVERY!
Usagi Yojimbo (Stan Sakai) - The adventures of a rabbit Samurai in medieval Japan.
Zero Kingdom (Mike Manley) - In the future the world has grown so crowded, only the super rich can afford private burial on the earth...